Regular price
Sale price
$24.99 USD
Unit price
per
Sale
Coming Soon
FREE SHIPPING WITH ANY PADDLE PURCHASE
The Veloz paddle cover protects your pickleball paddle from dirt, dents, scratches, and moisture. Plus, it can extend the life of your paddle surface for more spin and accuracy.  Made from high-quality stretch neoprene, the Veloz paddle cover provides a nice snug fit, with an easy access side zipper.  Fits all models of Veloz pickleball paddles. 
Share
View full details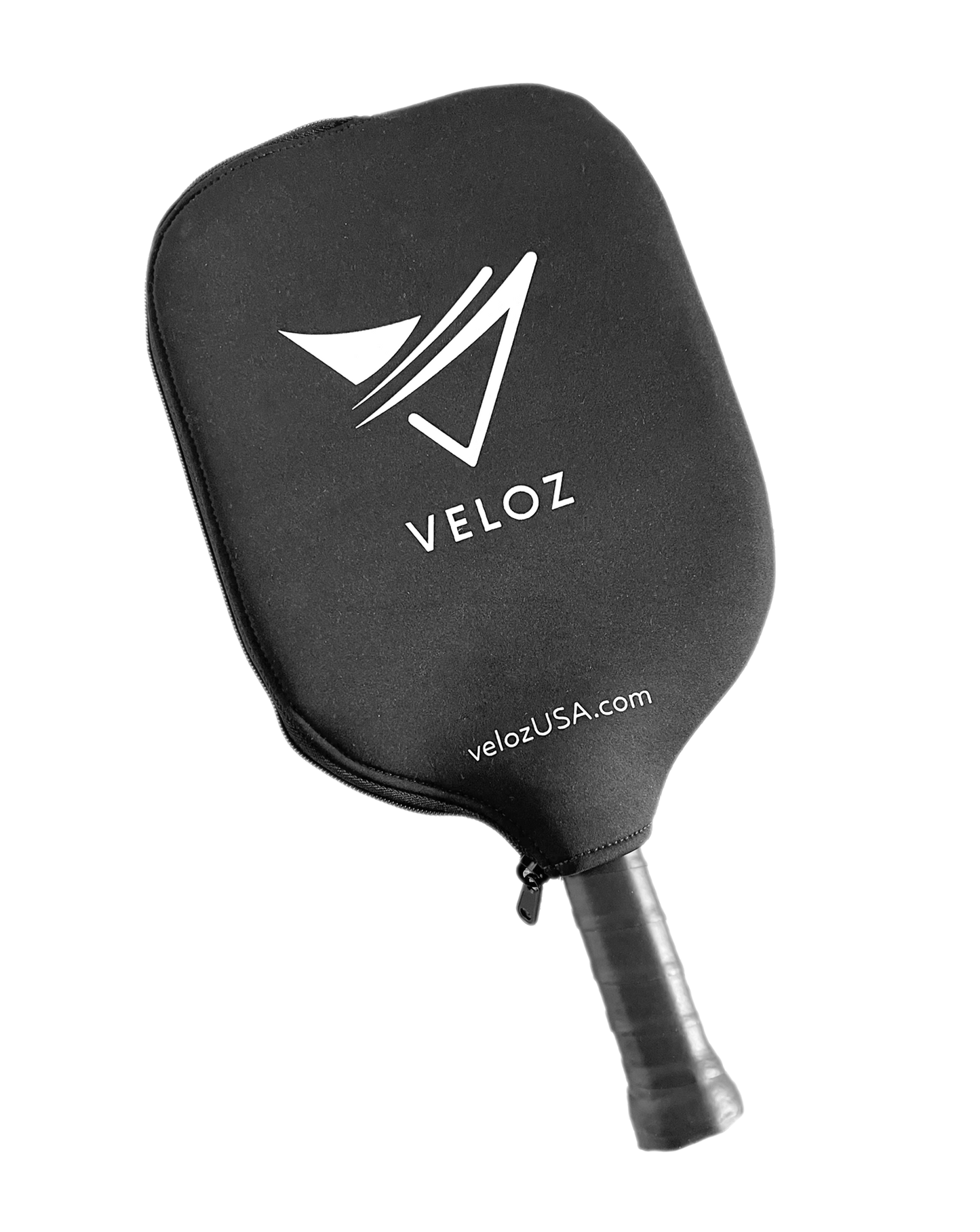 Collapsible content
READ MORE

At Veloz™, we're committed to making the best, highest performance paddle available. Most mass produced paddles are created by gluing sheets of carbon fiber or fiberglass only to the front and back of the paddle before a standard rail guard is glued in place. This creates a compromised "sweet spot" and a railed edge that can effect a ball's trajectory if struck off center.

Each Veloz™ paddle is hand crafted using the highest grade carbon fiber and component materials. Each paddle is multi layered with a proprietary carbon fiber strand orientation, and is "360-degree wrapped"  to create continuous dynamic tension around the entire paddle. Unlike most railed paddles, Veloz™ paddles are inserted into an aluminum mold and placed under extreme, heated  pressure for 3 hours to properly cure and deliver a consistent surface treatment time after time. There are over 7 hours involved in producing a single paddle. We're confident you'll feel and enjoy the Veloz™ difference after the first time you play.
Quality

Veloz™ paddles are made of the highest quality material and are guaranteed for life from any manufacture's defects under normal use. Each paddle is quality controlled by an embedded tool mark, identifying when and where each paddle was produced.

The precision tools that create our paddles are machined to precise surface measurements, creating consistent results with every paddle. Paddles are cured for up to 3 hours in an autoclave oven at 140+ degrees, to ensure the most precise surface detail.

Durable graphics are applied and surfaces are rechecked with USA Pickleball-sanctioned equipment to ensure total compliance and maximum performance.